10 reasons you need app for your business
Today is the era of burgeoning high tech gadgets with profound and distinctive benefits for their users. These gadgets have radicalized our life styles. Emergence of mobile devices in the near past has brought tremendous changes of how we do things as compared to our ancestors. Having a glance at global business trends we will surely be impressed by how online trading has taken over the contemporary methods of doing business.
Both mobile apps and websites offer great versatility of contents while the former also keeps intact the loyalty of customers. In 2015 Google disclosed its search device data and revealed that its mobile searches surpassed Google searches on desktop PCs. Increasing business through internet on mobile devices has given rise to the term m-commerce. Yahoo also endorsed the fact in same year, that 90% of the time people spend using mobile phones is spent on mobile apps.
Mobile devices provide a platform for the progressing names in the business to communicate with their customers, advertise and spread its word to masses. Mobile apps facilitate in adaptive as well as effective business strategies based on costumers' needs.
In the year 2016 there were more than 90 billion app downloads around the world. It is a big leap from 77 billion app downloads from the past year. Websites need to be designed in mobile-friendly versions as these are the new platforms for interaction with potential customers.
There are many reasons to have mobile apps in order to harvest the maximum benefits from this wireless setup of business. Few of the reasons have been discussed below for your perusal.
1. Others are doing it: According to small business App survey almost 42% small businesses launched in 2017 have their online footprints in form of apps. According to CNN an average American spend about 10hours a day watching mobile phones. This audience can easily be targeted for enhancement of business activities. The reason behind having apps is to gain people's time which they spend on mobile devices.
2. Increase in Sales: Swift modes of payments are only possible in mobile apps. This in turn offers a great opportunity to design effective business strategy whilst providing ease for the customers. The biggest example is that of Domino's Pizza. In first six months after the launch of app the brand cashed an increase of 28% in online sales in UK only. Currently about half of the orders are received through its app.
3. Ever increase in app revenues: As per Statista,an online source of statistics, the in-app procurements and app store revenes have witnessed a constant increase over time. The revenues in the year 2015 were $69.7Billion which soared to $88.3Billion in 2016. Statista predicts that the revenues will reach $188.9Billion by 2020. This shows the potential of app based business at a global canvas. Having an app for your business ensures all these benefits for you.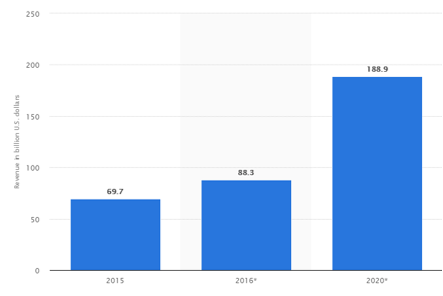 Picture Source:Sstatista
4. Easy mode of purchasing: Mobile apps allow easy access to the users for making online procurements by storing critical banking data to be used at a single click. The biggest grossing mobile app of 2017 for iOS was Pokemon Go that made it to pocket $2 Billion. Mobile apps provide a favorable platform for online trading with enhanced security features. With time we see an increased reliance and trust on app based economy among people. Therefore need of the hour is to take your share from this market.
5. Prepare for the Future: With innovation in the technology and its acceptance by masses has opened new horizons for business. History tells us that companies that adopted this change early were able to sustain the market. New names like e-bay and Amazon surfaced the world of business with a bright glow. The dynamics of global economy is moving towards greater uses of IoT and AI-enabled devices. Having a mobile app will prepare you for future existence in the field.
6. Increase customer retention: Mobile apps help to gain on-the-run feedback from the users. Various in-app options can be tickled to streamline the app keeping in view the aspirations of customers. Customer inconvenience can be readily responded and grievances can be resolved. In this way mobile apps are conducive for customer retention and improvement in business.
7. Strengthen Your Brand Image: Having a good name in the market is the key to success. This is possible when you are in complete coherence with latest trends of the market. Without mobile app you might seem outdated and an old school business house. The modern customers make decisions by checking online reviews about you. Therefore having a mobile app and website provide you a distinct identity which is very important for future aspects of the business.
8. Get Customer Insights: You may ask your customers about certain information regarding their gender, age, location etc. either in the app or at installation stage. In this way you can generate a database in light of which you can tailor your mode of business. You can identify a demographic segment which is most promising and profitable. You can work on product enhancement alongside announcing rewards and offers streamlined with the nature, type and locality of the customers.
9. Increase Customer Engagement: Almost 83% of the users begin their day by putting a glance at their smart phone. This is the reason why mobile apps have more accessibility than websites and are consequently more influential. Such level of engagement provides a firm ground to mold the decisions of customers and attracting them towards your products. With the help of an interactive mobile app one can grab many opportunities in favor of one's business.
10. Independent of location: The biggest benefit of online resources is that it relieves you from demographic bounds. Your customers can be at your store despite being miles away. With in-app monetizing methods they can pay instantly while being in their couch. They can gain all the insight of your products and services at their screens. Mobile apps equip the beholder to convince the audience by innovative advertisements.